FLAT TOUCH
Dear Friends,

I am very excited to announce our first curated show with Jason Segall, FLAT TOUCH at Pratt Institute, Brooklyn, NY. We invite you to join us for the opening next Friday, February 9th, featuring works from Choi Dachal, Florencia Escudero, Claudia Cortinez, Esperanza Mayobre, John Szlasa, Martyna Szczesna, Michael Sims, Karen Tepaz and Jason Segall

Reception from 6-9 p.m. at the Steuben Gallery, 200 Willoughby Avenue, Brooklyn,NY 11205.
Show will run through February 22, 2018.


I hope to see you there.

All my best,
Karen Tepaz
YES, AND.
Solo exhibition at CACtTUS Gallery, Long Beach, CA. Opening Saturday, September 30th, 2017. Reception 5-9pm.
The Whitney Houston Biennial Serenades New York City Art Scene, 125 Female Voices Create Their Greatest Love of All
THE WHITNEY HOUSTON BIENNIAL: GREATEST LOVE OF ALL
New York - The 2017 Whitney Houston Biennial: Greatest Love of All comes as a response to the awakening representation of women artists in major museums and galleries. To highlight female artists in New York this season, curator and artist Christine Finley will host female artists from a varied range of geographic and cultural backgrounds, disciplines, methodologies, and generations. The aim of bringing together so many creative voices is to sing a collective song that celebrates the contributions of pioneering female artists and marks a moment in our communal trajectory. In this newest incarnation, Finley is asking each artist to select a female pioneer who inspires them to accompany their work of art, thereby expanding the show through generations of inspiring women who came before them.
"The Whitney Houston Biennial is a feast for the eyes and a celebration of female voices."
- Artist and curator C. Finley
The show's title not only playfully addresses the traditional (and concurrent) exhibit held at the Whitney Museum, but also honors a strong and brilliant lady, five years since her untimely passing.
About the Biennial:
Who: Christine Finley and 125 Female Artists
What: THE WHITNEY HOUSTON BIENNIAL: GREATEST LOVE OF ALL
Where: 325 West Broadway, New York, New York 10013
When: OPENING RECEPTION March 19th, 4-8pm
March 20th -29th 12-8pm
2017 PRESS:
The Greatest Biennial of All - Hyperallergic
Finding Light (And An Ode To The Ass) In The 2017 Whitney Houston Biennial -ArtFCity
Feminist Artist's 'How To Undress In Front Of Your Husband' Skewers Retro Mansplaining -HUFFPO
Whitney Houston Biennial 2017 Features 125 Female Artists in New York City - Women's Wear Daily
The All-Woman 'Whitney Houston Biennial' Is Back, and It's No Joke - Art Net
the whitney houston biennial is real - iD Magazine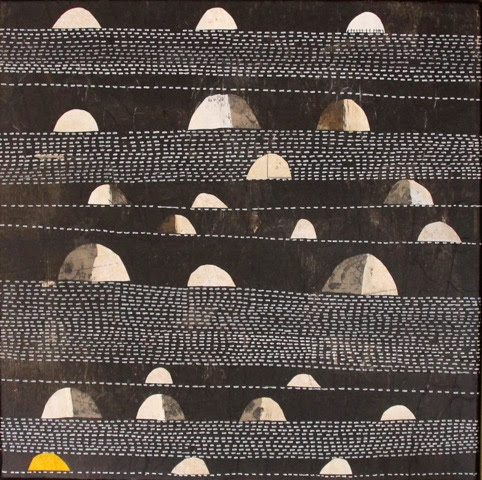 Process +/- Pattern
Shane Drinkwater, Willum Geerts, Heidi Hankaniemi,
Keigo Takahashi, & Karen Tepaz
SARDINE is pleased to present Process +/- Pattern, an exhibition featuring works by Shane Drinkwater, Willum Geerts, Heidi Hankaniemi, Keigo Takahashi, and Karen Tepaz. The show opens with a reception on Saturday, January 28, 2016 from 6 to 9pm. It will run through Sunday, March 5, 2017.
Delving into the idea that every artist has a process and every person has a pattern, Process +/- Pattern values series of actions or repetition in order to achieve a particular end. Often dismissed as merely decorative, pattern can be instrumental in creating strong statements: gestures on a surface; use of repeated forms; the measured progress of stitches; successive iterations of prints; a hand erasing letters on a grid so wholly worshipped it is essentially a pattern itself. Process +/- Pattern is a diverse collection of works that derive meaning through accumulation of movements, shapes, and objects.
Shane Drinkwater was born in Tasmania (the South Island State of Australia). He studied for 3 years at the University of Tasmania, School of Art in Hobart and one year at the National Art School in Sydney. He then lived and worked in Paris as a recipient of the Alliance Française/Australia council fellowship. Drinkwater has exhibited widely within Australia (Sydney, Melbourne, Adelaide...) and Paris as well as in New York with Gallery Molly Krom and Ky Anderson's Dusk Editions in Brooklyn.
Willum Geerts received his BFA from HKU University of the Arts in Utrecht. Geerts presents his multidisciplinary work all around the world, in and outside the regular art context. Bringing him, amongst others, from the Van Abbemuseum and Kröller- Müller Museum to Nhasan Studios in Hanoi; From Makan Art Space in Jordan to New York where he attended the LMCC studio program and Art Omi International Artist's Residency. He teaches at the Fine Arts Department at the HKU University of Arts in Utrecht and is regularly a guest lecturer at various other universities. He has been awarded with numerous grants from the Dutch Art Foundation and Mondriaan Foundation. In addition he is involved in many socio-political and cultural organizations.
Heidi Hankaniemi was born in Finland, though she has spent most of her life abroad in the other Nordic countries, Spain, Canada, and the Middle East. She holds a BA (Hons) in Critical Fine Art Practice from Central Saint Martin's College of Art and Design, London. Heidi has exhibited throughout Europe, in the US, and in Russia at the Moscow Museum of Modern Art, Moscow Biennale for Young Art 2010, and at the St. Petersburg Metro Museum for Pro Arte Foundation 2012. Heidi is currently based in New York.
Keigo Takahashi lives and works in Brooklyn, NY. He is a Master Printer who has been printing Fine Art Editions for 15 years, including in well-renowned printing establishments such as Watanabe Studio, Pace Editions, and Two Palms Press. Keigo Takashashi specializes in Screenprint and Woodcut printing. He runs KeigoPrints, a Brooklyn-based Fine Art Print Studio and Publishing Company which he founded in 2009.
Karen Tepaz is a sculptor living and working in Brooklyn, NY. She holds a BFA in Ceramics from Cal State Long Beach and received a MFA in Sculpture from Yale University in 2013. Tepaz's work has been included in recent group exhibitions "Portrait of a Landscape" at the Shirley Fiterman Art Center at BMCC, New York, New York, "Silent Shout" at The Gallery at ATLAS, Newburgh, New York and "BOMB POP-UP!" curated by Drea Cofield in Brooklyn, New York.
SARDINE is located on the ground floor of 286 Stanhope Street between Wyckoff and Irving Avenues in Bushwick, Brooklyn, one block from the Dekalb L train and near the Knickerbocker M. Gallery hours are Saturday and Sunday from 1- 6pm or by appointment. For more information, please visit sardinebk.com. Contact: Lacey Fekishazy at 914.805.1974 or sardinebk@gmail.com.

Image: Full Night by Shane Drinkwater
Portrait of a Landscape
Curated by Claudia Cortínez
Aug 3rd – Sept 10th Opening reception Aug 3rd 6-9 pm Gallery hours: Tues – Sat, 12-6 pm Buenos Aires/ Erica Bohm, Ayelen Coccoz, Claudia Cortínez, Estefanía Landesmann, Samuel Lasso, Carolina Magnin, Pedro Wainer New York/ Louis Chan, Esperanza Mayobre, Alva Mooses / Troels Heiredal, James Hyde, Myeongsoo Kim, Barney Kulok, Libby Pratt, Karen Tepaz, Max Warsh In the practice of photography, the terms portrait and landscape have come to define not only the medium's most traditional genres but also the standards of composition when viewing or making an image. Portrait of a Landscape plays with these conventions and draws a line between continents; it brings together artists from New York and Buenos Aires, Argentina to propose a meeting point between the photographic and physical world. Curated by Claudia Cortínez, a visual artist who has lived in both cities, the exhibition plays with reformatting the photograph as an object, each artwork unfolding its parameters of viewing as a physical experience. The authority of light grants a lot of liberties regarding truths and imperfections. Still, you can manipulate and abstract a photograph away from every sense of the real except for its source and duration of exposure. In Portrait of a Landscape, photographic impressions are reframed in terms of the physical and emotional pressure each image exerts: making visible the displacement of light around objects; highlighting the simultaneous veracities and distortions of memory; emphasizing the "plastic" aesthetics of the landscape through color and texture. The effect is not only to break apart the components of photography, but also to describe the context in which these artworks were made. In this way, the exhibition proposes distinct ways of depicting a place, as well as its prevalent sensibilities regarding a sense of location, image, and the photographic process. Portrait of a Landscape will be open from August 3 – September 10, 2016, with an opening reception August 3 from 6 – 9 pm. Borough of Manhattan Community College Shirley Fiterman Art Center, 81 Barclay Street, NY, NY 10007 www.bmcc.cuny.edu/sfac
GlenLily is pleased to announce its third annual exhibition, GlenLily Grounds 2016, organized by Lacey Fekishazy. The show will run for two days on Saturday, September 24 & Sunday, September 25, 2016 from 12pm to 6pm. It is part of Newburgh Open Studios 2016, which is now in its sixth year.
GlenLily Grounds 2016 is an exhibition of outdoor site-specific art, installation and sculpture. It will be spread out on the estate over 11 acres of field, hill, and wood.
A Newburgh native, Lacey Fekishazy lives and works at GlenLily. She runs an art gallery called SARDINE in Bushwick.
The 2016 exhibition features work by Joseph Ayers, Andy Brown, Lisa Candage-Goble, Angela Conant, Andy Cross, Amy Feldman, Stacy Fisher, Beka Goedde, Jacob Goble, Kate Harding, Gabriel Hurier, Julian Armand Jimarez-Howard, Elisa Lendvay, Patrick Mangan, Lori Merhige, MaryKate Maher, Matthew Mahler, Peter O'Kennedy, Antonia Perez, Kristen Rego, Ryan Roa, Steve Rossi, Elisa Soliven, Jean-Marc Superville Sovak, Karen Tepaz and Zach Seeger.
SILENT SHOUT at The Gallery at ATLAS in Newburgh, NY

The Gallery at ATLAS and SARDINE are pleased to present SILENT SHOUT a group show curated by Lacey Fekishazy. SILENT SHOUT will feature recent work by Maria Calandra, Andy Cross, Gabriel Hurier, Elisa Lendvay, Eva LeWitt, Dana Powell, Karen Tepaz and Tim Wilson.

The show will open at noon in conjunction with Newburgh Open Studios 2016 on Saturday, September 24 and a reception will be held that evening from 7 to 9pm. Gallery Hours are Saturday and Sunday from noon to 6 pm and by appointment through Sunday, October 9, 2016.

From curator LF:

"SILENT SHOUT is comprised of a group of eight artists with diverse practices. Silently, and subtly they work with their hands, but their art shouts back at you. Using quiet humor, strong palettes, and repetitious mark making; these artists express an experimental urgency and overall joy in the creative process. Their work reverberates as if it were a strong shout from the artist's inner core."

Maria Calandra lives and works in Brooklyn. She is a graduate of Cornell University's MFA program and has previously exhibited with SARDINE, Andrew Edlin Gallery, Shrine and Romeo. She is the creator of the blog Pencil in the Studio.

Andy Cross (b. 1979, Williamsburg, Virginia) lives and works in Brooklyn, New York. Cross received a MFA from Hunter College in 2005. His work has been exhibited in New York and Internationally. A larger installation titled "House Painter" received a solo show at the Max Mara, Maramotti Family Museum and Collection in Regio Emilia, Italy (2013). In New York and Brooklyn he has had 5 solo exhibitions with Martos (2013), Kravets Wehby (2006), Cathouse Funeral (2014), and Sardine (2014 / 2016). He has also had solo projects with Mario Diacono in Boston, Massachusetts (2005/2007).

Gabriel Hurier was born in Cincinnati, Ohio and lives and works in Newburgh, New York. He studied painting and printmaking at Miami University in Oxford, Ohio. He has participated in numerous group shows in the New York area including Gallery 128 and ATM Gallery, and has also shown in Chicago, San Diego, Cincinnati, Zagreb, and Singapore.

Elisa Lendvay (b. 1975, Dallas, TX) holds an MFA in Sculpture from Bard College and a BFA from the University of Texas at Austin and Bennington College. Recent exhibitions include a solo presentation at Jason McCoy Gallery, New York, Fred Giampietro Gallery, New Haven, Connecticut, and group shows at Kansas Gallery, New York; Asya Geisberg Gallery, New York; Rare Gallery, New York; Lesley Heller Workspace, New York; TSA, Brooklyn; Daily Operation, Brooklyn; Orgy Park, Brooklyn; and Klaus Von Nichtssagend, New York, among others. She lives and works in Queens and Brooklyn and just received a Newburgh Relocation Grant from the Orange County NY Arts Council.

Eva LeWitt lives and works in New York, New York. She holds a BFA in Art from Bard College. She has shown in New York and internationally. Recently her work has been featured in a solo show at Gallery OneTwentyEight in New York and a group show London's Studio_Leigh Gallery.

Dana Powell (b. 1989, lives and works in Brooklyn, NY) received her BFA from The Cooper Union in 2015. Her first solo exhibition, Life Paintings, concluded a three month residency with The Still House Group (2016, Brooklyn, NY). Her work has been included in group exhibitions High and Tight, to_____bridges_____ (2016, Bronx, NY) and Shrines to Speed, Leila Heller (2016, New York, NY).

Karen Tepaz is a sculptor that works and lives in Brooklyn, NY. She holds a BFA in Ceramics from Cal State Long Beach and a MFA in Sculpture from Yale University 2013. She has shown in group shows in California and New York City, and was recently apart of a group show "Portrait of a Landscape" at the Shirley Fiterman Art Center at BMCC.

Tim Wilson was born in Virginia and lives and works in Brooklyn, New York. Wilson received his BFA from Virginia Commonwealth University in 1993 and his MFA from Yale University in 2013. He has had solo shows with Schroeder Romero, 31 Grand, and SARDINE in New York and Bucheon Gallery in San Francisco.

Lacey Fekishazy grew up in Newburgh, New York and currently lives and works there. She holds a BFA in Painting from SUNY New Paltz, New Paltz, New York and an MFA in Art from Queens College CUNY, Flushing, New York. Fekishazy founded an art gallery called SARDINE in Bushwick, Brooklyn in 2011. As part of Newburgh Open Studios, she also organizes Glenlily Grounds, an outdoor exhibition now in its third year.

Founded in 1993 by Thomas Wright and Joseph Fratesi, Atlas Industries is a multi-disciplinary design and manufacturing firm integrating interiors, furniture and objects in a craft-based sensibility. In 2013, after being based in Brooklyn for twenty-two years, they moved to Newburgh, in New York's Hudson Valley. Newburgh is now home to their studio and shop, where they design, prototype, invent, build, and produce their work as well as run Atlas Studios. ATLAS is an historic industrial building converted into workshops & studios for artists, makers, entrepreneurs, and creative professionals seeking space in a dynamic environment. Dating to 1920, the building belongs to an era when Newburgh was a thriving industrial center with, among other things, large-scale textile manufacturing. The Gallery at ATLAS is located at 11 Spring Street in Newburgh, NY 12550. Gallery hours are Saturday and Sunday from noon - 6pm or by appointment.

A special thanks to Gerardo Castro and Michael Gabor of Newburgh Art Supply for organizing the sixth annual edition of Newburgh Open Studios, to Hannah Anderson and Emilia Norat of Atlas Studios for all their efforts and help, and to Newburgh Brewing Company and Palate Wines for their incredible generosity.
 
Visual Artists:
Manal Abu-Shaheen, Williamson Brasfield, Caroline Chandler, Courntey Childress, Gaby Collins-Fernandez, Emily Davidson, Ala Dehghan, Florencia Escudero & Karen Tepaz, Mariana Garibay Raeke, Kati Gegenheimer, Mark Thomas Gibson, Ivy Haldeman, Matthew Hansel, Heidi Howard, Tommy Kha, Hein Koh, Gwendolyn Kurtz, Doron Langberg, Michael Marcelle, Lance Marchel, Steven Mayer, Dustin Metz, Alan Prazniak, Carlos Enrique Martinez Ramos, Julie Rooney & Rebecca Hadley, Thomas Shaheen, Rachel Schmidhofer, Katie Vida

Music Performances by:
Feral Foster http://feralfoster.com/
Joanna Sternberg https://joannasternberg.bandcamp.com/
Jonah Parzen-Johnson http://jonahpj.com/
Ross Gallagher https://rossgallagher.bandcamp.com/

*************************************************************************

The show is loosely inspired by the iconic American summer treat, the Bomb Pop. It's all about LAYERS. Layers of flavor, of color, of meaning, history, politics, and seasons! They're all melting together in our mouths, the sun, our music & art. The patriotic confection, simultaneously a seduction to children and a symbol of war, is a not-so-innocent way to image this moment in our culture. It's an election year. It's summer. This is America. There are distant wars, and drones, and #makeamericawhateveragain, Trump/Drumf, gas-lighting everywhere, mass shootings on the reg, continuing murder of unarmed Black Americans by police, the UK just left the EU, & kids are literally falling off cliffs trying to "Catch 'Em All!", but we are still trying to make a good life, beautiful things, & spread love.

Art & Music Curated by Drea Cofield

With Special Thanks to our sponsors Houdini Kitchen Laboratory & Pabst Blue Ribbon for their generous donations! Gaby Collins-Fernandez & Kati Gegenheimer for being complete badass helpers, artists, & friends. Andrei Z Hill for fabrication, stage set up, & pretty much all the physically hard work. DJ Available For Parties & Will Brasfield for sound & party. Rahsaan Gandy & the hosts of 1822 Fulton Street for making this possible. Adam Schatz for his most instrumental minivan. Photographer friends Claudia Cortinez & Ben Solomon for documenting it all. My mom. All the artists & musicians for their magic. AND YOU, FOR COMING OUT AND SUPPORTING.